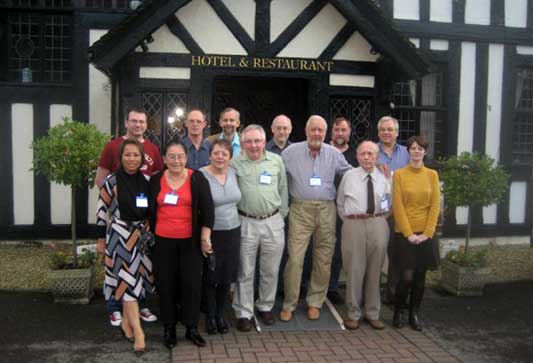 Attendees : Front row (left to right) Nat Beck, Jean Wilkinson, Vivien G, Ken C, Iwan Morelius, John Runter, Mary G.
Back row : Ken G, Duncan West, Steve Whatley, Charles Beck, Nick Dow, Steve Patton

The Second Dennis Wheatley Convention was held on 7th November at the Corus Hotel in Elstree, the location for some of the filming of 'The Devil Rides Out'.
Thanks to our reviewer par excellence, Steve Patton, for providing our official report.

- - - - - - -

It was a cold but sunny morning as I reversed out of my drive at 08.40 am on the 7th November 2009.
The M1 was remarkably clear and I arrived at the Corus Edgwarebury Hotel – Elstree at 10.00am. I parked adjacent to the front lawns.
It was easy to visualise Richard Eaton with his head under the bonnet of his car, Marie Lou preparing food and Fleur ('Peggy' in the film) prancing around as if performing in a gymkhana awaiting the arrival of Rex and the 'strange' Tanith all those years ago.
The Coven re-Co(n)vened approximately 18 months after the inaugural meeting at the same venue last year. The only difference being that we held our activities in the Arkley suite rather than last year's Aldenham suite. The Coven of thirteen had grown by one this year. Unfortunately Mally Dow could not be with us but we were delighted to welcome our guest speaker John Runter and Duncan West's wife Christine. Garnet and Elizabeth Harrison who were also hoping to be there with us had to pull out at the last moment.
I would like to offer my admiration for the loyalty of the coven*, who had travelled many miles to be there. Mary & Ken Gallagher made the long trip from Scotland again only to have the occasional (friendly) 'non PC comment' pertaining to their accent. (Very DW like!!) Iwan had a particularly difficult time with this and did offer humble apologies.
* (A reference to last year's Convention for those wondering what on earth I'm talking about).
Iwan made the even longer journey from Spain again by plane but decided to change with tradition this year and go from Luton Airport straight to Elstree cutting out the Scottish sightseeing trip !! Others came from Lancashire, Derbyshire, Kent and London. Well done to all for the loyalty shown.
Once everyone had gathered together and had cups of tea and coffee while Colin McCourt's musical of The Devil Rides Out played softly in the background, Charles opened the proceedings just after 11.30 with a welcome to all.
Names cards, programmes and souvenir
bookmarks - all courtesy of Steve Whatley
Steve Whatley reading out Anthony Lejeune's
message
A message from Anthony Lejeune (editor of DW's last two books 'Drink and Ink' and 'The Deception Planners') was read out by Steve Whatley. A.L.'s note explained that he was following DWs' example of being "a very good seventy but a very bad eighty". He went on to say how pleased he was "at the current revival of interest in all things Wheatley and that he trusts our confabulations* will be as magnificent as the Duke de Richleau could wish and as clever as Gregory Sallust might achieve. Good Wishes, Anthony Lejeune ".
* (I'd like to say that I knew what this meant but had to look it up - familiar talk; easy, unrestrained, unceremonious conversation)
We were then shown a short film, "Clive Barker's 'A to Z' of Horror" which gave an excellent insight to DW and his works with interesting comments from other Wheatley enthusiasts. I had not seen this before and found it fascinating.
Nick Dow then took centre stage to introduce the audience to "Actors recollections of DW".
Nick informed us that he had been involved in organising some restoration work for a high quality 1920's wagon. Nick noticed purely by accident that the owner's mother had the surname Arrighi. When he quizzed the owner on the name it turned out that Nike Arrighi (Tanith) was his aunt. This coincidence led to the owner contacting Nike, who agreed to a telephone interview with Nick from Paris. The interview is due to be broadcast on mainstream BBC radio in the very near future and so was not specifically DW based but on a much broader spectrum. The recording was played to the group. Nike was a very willing and an interesting person to listen to and informed Nick that when she left RADA she was offered the role of Tanith in 'The Devil Rides Out' and thoroughly enjoyed working with her co-actors and actresses. TDRO was followed soon after by 'Countess Dracula' and 'Women in Love'. She has also appeared in The Saint, The Prisoner and in a few French films and was lucky enough to work with Truffaut. She finished her acting career when she married an Italian Prince. She now particularly enjoys painting.
A quality buffet lunch was served in the Beaufort room at 1.00. I would add that I wasn't the only one to have sticky toffee pudding for dessert!! Nat was keeping a close look out on Charles to see if he went anywhere near the puds. I have to say he was remarkably controlled (as if he needs to worry – he looks fitter than all of us)
Nick next to his impressive display of Arrow paperbacks
and audio books
John Runter giving his talk
After lunch we returned to the Arkley suite to listen to our 'guest speaker' John Runter give an excellent resume' of "The Day I upset Dennis Wheatley (60 years of hero worship)" Despite being 78 years old and hard of hearing John produced an exceptionally detailed and interesting report. His admiration for 'all things Wheatley' began when he read V for Vengeance as a teenager in 1943. He then devoured as many Gregory Sallust books as he could get his hands on along with any of the older novels available. In 1949 he wrote to DW to let him know that he had read 16 of his novels . He received a handwritten note in return.
As a freelance journalist some time later he wrote to DW again to ask if he would agree to an interview. He did just that and John visited him at Grove Place, Lymington. DW was in the process of reading the proofs of his new book which he had intended to call 'Swansong in Vienna' but the title had already been taken. This book was to become 'The Second Seal'. John managed to take a quick look around the office when DW was called away briefly, and was able to examine the excellent library - particularly the Moroccan leather bound set of DW's own works.
John met DW a second time in 1966. Later on, in 1975, in replying to a letter of John's, DW informed him that 'Desperate Measures' was to be his last novel as he was concentrating on his memoirs and when John asked him if he could release this information to the press DW categorically said No!, and if the information was leaked to the press he would totally refute it as he didn't want the public to lose interest in what he may or may not be doing in the future. So, John agreed to keep quiet; even though the majority of the people at Hutchinsons seemed to be aware of this already.
John then threw a few test questions to the audience to see just how much we did know about DW. Some of the older members knew the answers - I won't for a minute suggest who they were!! John finished his speech with a couple of interesting observations; at certain times DW came across as rather pompous which sometimes alienated people which was a shame as on other occasions he could be charming. John also informed us that DW left the small sum of £72,487 in his will. Not a great deal!
In addition to John's excellent presentation he very kindly brought along a selection of DW memorabilia including a wartime paperback issue of Contraband, an auction catalogue, a cartoon strip that DW had written for the Daily Express shortly after the War and various other items.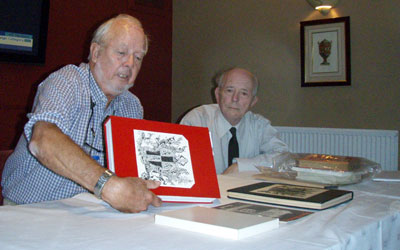 Ivan and John
Iwan Morelius then entertained us with further reminiscences relating to DW memorabilia. Because his family needed more space some books were sold together with his complete set of correspondence with DW and Christmas cards. Fortunately he did make copies of this information which he had bound beautifully in red leather and which make fascinating reading. Examples of the letters include:
A letter dated 13th December 1939 from DW to a Mr Downing discussing the Scarlet Imposter, Sixty Days to Live, Contraband and Black August.
A three page, hand written letter dated 1948.
Iwan's first letter to DW dated 23rd January 1961 when he was a sergeant in the Swedish Army.
A letter written by DW in 1972 to Iwan enclosing two of his bookplates and a copy of a leaflet which Hutchinson had printed 5,000 copies of a leaflet to commemorate DW's 75th birthday. However Hutchinson didn't mention that it was one of Iwan's own leaflets taken from his bibliography on DW. The last letter was the note from Joan informing Iwan of DW's demise.
The 'first shock' of the evening came when Iwan decided to present this book to Steve Whatley. I think the surprise on Steve's face must have been similar to that of Iwan's when DW presented him with the book (The Ravishing of Lady Mary Ware) which he dedicated to him on its publication.
Iwan went on to explain that there were four bound special editions of his book printed. One for Iwan, one for DW, one for his brother in law and one extra copy that was produced at the request of a Swedish collector. He then showed us an original fingerprint of Dennis Wheatley and an original illustration of DW that was drawn by his ex- wife for Iwan's book.
The 'second shock' of the evening came when Iwan donated these two items to Charles. Charles was almost speechless. Iwan never fails to surprise us.
Charles then explained what was happening with the 'Museum' section of the web site and about the various items that were being put on display at the back of the room for everyone to look at.
Some of the items are listed below;
Photographs of DW at the age of 14, and of DW in World War I, both of which had originally belonged to DW himself, and had been reproduced in DW's books.
A letter to DW from Gordon Eric Gordon Tombe, the charming crook who taught DW about life, women, literature & eastern religion.
The opening page from the 'EGT Manuscript' in which DW wrote down what he was doing immediately before and after Gordon Eric disappeared in 1922 – it turned out he had been murdered and buried in a well - a discussion of the manuscript is one of the key points of Phil Baker's new book.
The hand corrected typescript of 'The White Witch Of The South Seas'.
We then moved onto an Open Forum "My favourite things" where people could discuss items/objects/subjects that they were particularly fond or proud of;
Charles explained that he was a collector of pre-Arrow paperbacks. He has been collecting them for around ten years and the wartime issues are very rare. Charles said that these books evoke pictures of someone reading them in a blacked out railway carriage during the war. He was particularly impressed with the Contraband paperback that John Runter had brought with him. The later versions (1950's) are more readily available and have some excellent covers. Even the later Arrow versions have their appeal, with men with flared trousers and sixties dolly birds on them. In fact I am tempted to join this range myself but I will need to keep in touch with Charles to stop any bidding wars.
Charles then went on to explain the story of a Montague Summers book which he had purchased on EBay for the modest sum of £150.00. Its title is 'Essays in Petto'. Apparently the translation for this title is 'Essays in Secret', in this case about the Restoration Theatre. This book originally was sent to DW after the Rev. Montague Summers had finished reading 'The Devil Rides Out'. He was so impressed that he wanted to send DW a gift. It is inscribed to DW and dated 14th February 1935. A truly wonderful exhibit.
Charles talking about the
pre-Arrow paperbacks
Steve Patton discussing the possible
location of Cardinals Folly
It was then my turn. I went over some of the work involved in trying to establish whether or not Cardinals Folly and The Pride of Peacocks really existed. Most of the history of this search is documented on the website but the main reason for the discussion was to try and establish the best way forward in order to solve the secrets of these two DW 'grails'. I offered some suggestions as to the way forward and the general consensus was to put an article in the local Kidderminster paper. This may then register with people who recognise these buildings from DW's descriptions. Fingers crossed. Other people at the Conference kindly came up with helpful suggestions; Jean Wilkinson offered to assist with searching through some genealogy tables for the Wheatley family and links to Worcestershire as well as trying to locate William Plevey (Wilkes) from the Peacock Inn. Ken C and Vivien G also offered their own investigative help, which is all very much appreciated.
(Since I have returned from the convention Nick Dow has come up with another possibility for the Peacock Inn. (Even though it is 17 miles away from Kidderminster) Please see the attached site for info.
http://www.dinewithus.co.uk/peacock-inn
and
http://maps.google.co.uk/maps?sourceid=navclient&rlz=1T4ASUS_en___GB337&um=1&ie=UTF-8&q=Peacock+Inn+Tenbury+Wells&fb=1&gl=uk&hq=Peacock+Inn&hnear=Tenbury+Wells&cid=0,0,4737913735003867827&ei=fVP3SpmGOc734Ab2m_HQAw&sa=X&oi=local_result&ct=image&resnum=1&ved=0CAoQnwIwAA
Thanks Nick.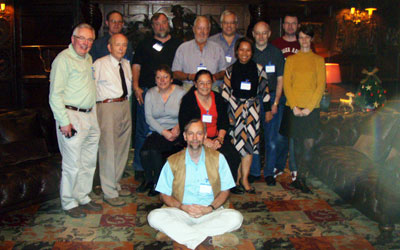 The Group in front of one of the hotel's impressive fireplaces
Nick then spoke to us about his love of audio books and his personal collection, this being one of his 'favourite things'.
The Devil Rides out
There are two versions available.
Narrated by Anton Rogers and issued on the Music for Pleasure label.
Narrated by Clifford Norgate and issued on Chivers Audio books (13 hours long)
Strange Conflict
Nick paid £77 for this on EBay but said it was well worth it.
Nick has added this to CD if anybody is interested in having a copy.
The Haunting of Toby Jugg
Narrated by Denholm Elliott and issued on the Music for Pleasure label.
Nick added that he enjoys listening to these when driving. It can be quite relaxing and no matter how many times you listen to them you always pick up something new every time.
At this point we all watched the Film "Fooling Hitler" which was shown on television earlier this year but was well worth watching again. For those of you haven't seen this film, you would be right to assume that there are a substantial number of explosions and gunfire in this film, based on Deception Planning in the Second World War. It was getting dark outside and I happened to be sat by the window when this film was on. I was hearing bangs and explosions not only from the film but from the fireworks being let off outside at the local bonfire parties. It was unintentional that I should sit there but very effective.
We then had a break and agreed to meet in the bar in time to have a couple of drinks before going in to dinner.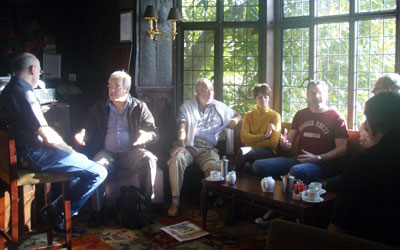 ...discussions continued in the Bar
Dinner was served at 8 o'clock (after a little bit of manoeuvring on Charles' part but coffee was not served till 9.30?? This wouldn't have been allowed if Sir Pellinore was here. What!!!!)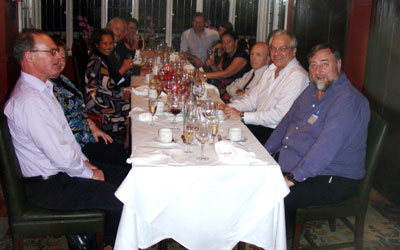 Dinner ... Ken and Mary G, who provided the Hoyo
de Monterrey cigars, can be seen top right
At this point Mary & Ken G very kindly placed a large box of Hoyo de Monterrey cigars on the table for the assembled party. A lovely (and I imagine, expensive) gesture which was very well received. Thanks to you both.

It didn't stop there!! Steve Whatley and  Jean Wilkinson passed round a large box of  assorted chocolate mints followed by Thornton's chocolates when we left the dining room to watch the final item of an excellent day - a showing of the film I thought I would never see - The Forbidden Territory.  Not the greatest cinematic viewing I have ever seen but as part of the DW story, an absolute must for all DW fans. 

Charles expressed our thanks to Matthew Coniam, who had given him this copy.   

So, the 2nd DW Convention came to an end at I'm sure that all attendee's enjoyed it as much as I did.

DW himself would have been proud of the date we had chosen. 7/11/2009.

He was keen on Numerology and a 7 indicates a magical aspect.  11 = 1+1 which adds up to 2.  The Mystical moon sign (Made up of two powerful Sun signs 1's).   Even if you include the year we have 7+11+2009 = 2027 = 11 which in turn = 2)  Magic again.    With these ideal numbers we  were assured of yet another Magical Mystery tour of DW discussion, reminiscences and  critiques as well as the sheer pleasure of meeting people 'old & new' with like minded ideas. This proved to be correct in every way.  

A big thank you is warranted to the main organiser(s) -  Charles Beck (with Nat's support & help obviously) who was the 'Duke' of the team ably supported by his additional musketeers, Nick Dow and Steve Whatley for all their assistance in organising the 'technical 'bits'  and the printing of the name cards, name tags and programme stationary making the second Convention such a success. And to everybody who attended, contributed and helped it to be such a memorable day. 

When Rex and Tanith finally arrived at (The Edgwarebury) 'Cardinals Folly'', Tanith jumped into the drivers seat of the Bentley  and drove off with Rex in hot pursuit in Richard's car.  Fleur, in total surprise states, "They didn't stop long, did they"

As far as the group at the 2nd DW convention were concerned we were pleased we stayed till the end. It was another excellent Convention.   Bring on No. 3.
- - - - - - -
Thanks to all for making it such a wonderful occasion.
Any ideas for next time ???
This page last updated Copyright © 2002-2006 Bob Rothwell. 2007-2022 Charles Beck.