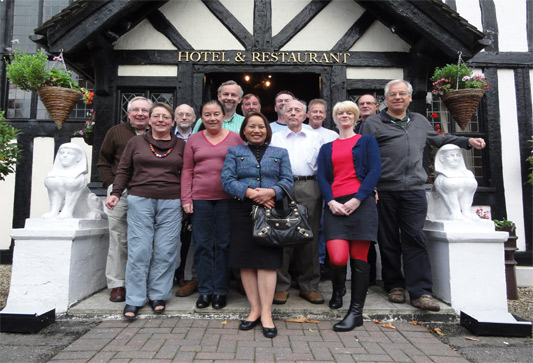 Attendees (left to right) : Ken C, Vivien G, Charles Beck, Jean Wilkinson, Steve Whatley, Nick Dow, Nat Beck, Ken G, John Runter, Bill S, Mary G, Duncan West, Steve Patton

The Fourth Dennis Wheatley Convention was held on 29th October 2011 at the Corus Hotel in Elstree.
Thanks to our reviewer par excellence, Steve Patton, for again providing the official report.

- - - - - - -


I left home a little earlier this year as we had planned to commence the 2011 Dennis Wheatley Convention at 10.30 with a view to finishing a little earlier in the evening.

The weather was surprisingly overcast (but dry) as I headed towards Elstree for the fourth time. The 50 miles per hour speed restrictions that were in place on the M1 motorway last year were still there this year, albeit a little further along this time !!

I arrived in the car park at the now familiar Edgwarebury hotel and just managed to secure a parking space. Business was obviously booming despite the recession.

I immediately headed for the bar area, being well aware of the habits of my fellow DW compatriots.

I was stunned. It was empty. Had I got the wrong day ? I quickly checked with reception and they reassured me that the some of the group were in the Arkley suite whilst the remainder were finishing breakfast. Excellent, I thought; it must have been a good drinking session the night before.

I stumbled down the stairs and the first person I bumped into was John Runter, with whom I never fail to be impressed. He does so remarkably well to drive all the way to and from Tunbridge Wells despite his tender years to attend these conventions.


A few others were gathered in the convention room and hearty greetings were extended to Ken G, Bill S, Ken C, Vivien G, Duncan West and a strange 'blonde' headed lady with knee length leather boots who had arrived in the guise of 'Erika von Epp'. We eventually determined that it was probably 'The Blonde Impostor - Mary G'.

Charles was also there putting those final touches to the proceedings whilst Nick Dow was looking decidedly frazzled and was rushing around with perspiring forehead having just managed to fix the 'blown' electrics for the television, speakers and amplifier.

Steve Whatley then entered announcing that that a special delivery was also due to be made !!!!

Nat then arrived, (No, she wasn't the special delivery) with a new, wait for it ........... handbag!!

Nat handed the bag to me. "See if you can find the maker's name" she said. I felt vaguely apprehensive. It's not often you are given a full lady's handbag and given the OK to have a rummage through it. With some help from Vivien, we managed to locate the well hidden information. It turned out to be a black leather Balenciaga (limited edition) handbag made in Paris. Jean Wilkinson arrived soon after thus making the coven of thirteen complete.


Unfortunately Iwan Morelius and his wife Margareta together with Mally Dow were unable to attend. Hopefully we will see them in the not too distant future.
Charles then arrived with the aforesaid 'special delivery'. It was a leather briefcase with the famous initials D.W. stamped on the front. Apparently one of DW's grandchildren had located it and on this occasion it was used to carry the convention programmes to the 'coven'. The programmes and the souvenir bookmarks that were contained in it were the handiwork of Steve Whatley. It was an excellent way to start the proceedings. The clock had just passed 10.30.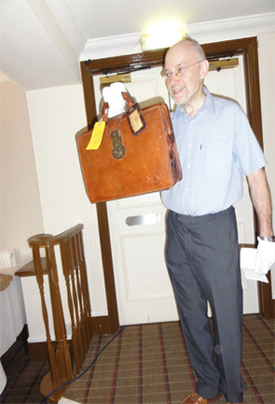 Charles arrives with Dennis Wheatley's briefcase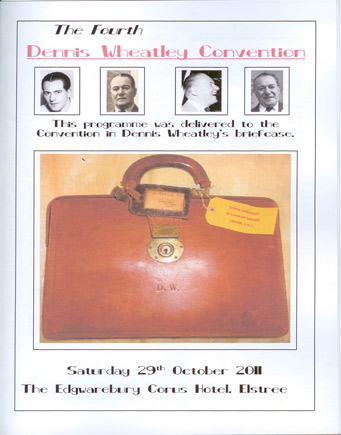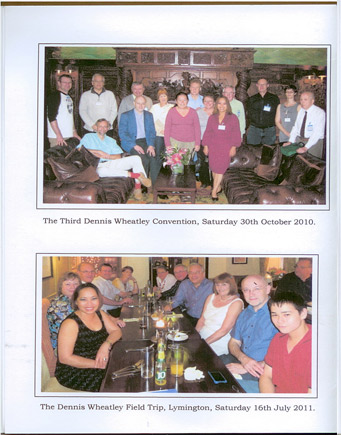 The outside pages of the programme, courtesy of Steve Whatley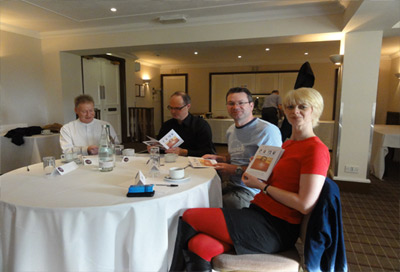 Members of the group with their programmes
We were then treated to a viewing of 'All Hallows'een'. A short black & white film written by Nicola Wheatley Marsh and directed by DW's great granddaughter, Lydia Wheatley. One of the characters in the film, Igor, was wearing DW's smoking jacket. The showing of the film was well timed as Halloween was only 37 hours away.
John Runter then gave another very informative talk on 'J.G Links: Dennis Wheatley's Partner in crime'.
John Runter talking about J. G. Links
John explained that JG was the man who planned and produced the plots of the four dossiers which were published in the 1930's. He was born in Cricklewood, London in 1904. Both he & DW shared a knowledge & love of fine German wine. They were both engaged in the war effort; DW as an RAF officer in Churchill's War Rooms, whilst JG was a Wing Commander in the Air Ministry.
The first dossier 'Murder off Miami' sold a quarter of a million copies and was translated into several languages. According to JG the next two dossiers, 'Who Killed Robert Prentice' & 'The Malinsay Massacre' also made "A lot of money". The final dossier, 'Herewith the Clues' was a total flop primarily because not enough attention to detail had been put into it and the readers complained.
Regarding the dossiers, letters suggest that JG was none too happy with some of the slovenly writing (DW's), feeble plots (his) and the innate vulgarity of them. The only thing he liked about them was the money ! This suggests that the two men did not always see 'eye to eye' In fact on one occasion DW was "livid with rage" over photographs that JG had arranged in his absence for 'The Malinsay Massacre'. On the positive side, JG also wrote the book 'Venice for Pleasure' which at the time was considered to be the best guide book to any city ever written. (John Runter kindly bought along a copy of this book for display at the convention).
The next item was a re-run of the film 'Dennis Wheatley's Living Portrait'. This item was shown for the first time at any DW Convention last year but was included for the benefit of those who missed it last time, and the enjoyment of all those who asked to see it again.
At midday (with the sun shining through the convention room's window) we were privileged to view a number of items which are due to be displayed in the next 'web site museum' update and which were available for us all to view in the 'flesh'.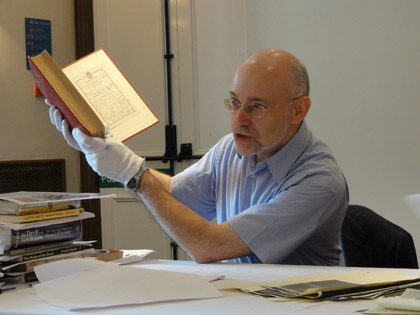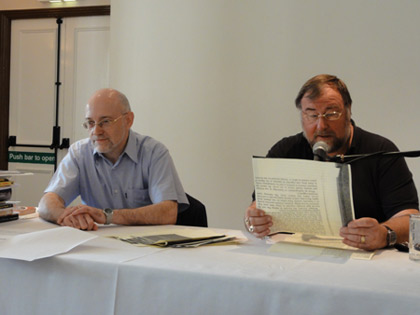 Charles gives his talk, ably assisted by Nick
We then listened intently to a talk by Charles on DW's association with Aleister Crowley, Montague Summers, Rollo Ahmed and Alexander Cannon (as well as a few other famous names of the time including Harry Price, M.R. James and Somerset Maugham), interspersed with readings by Nick Dow from 'Drink And Ink'.
This was a very thorough & comprehensive investigation into the activities & writings of these famed authors.
Nick Dow read about how DW's friend Tom Driberg introduced him to these men.
DW's initial thoughts on Crowley were that he was "intellectually quite wonderful but couldn't harm a rabbit".
Aleister Crowley
was born in 1875 and had an astonishing life. He was born in Leamington (Not Lymington....Private joke for those that were there.) He was known as the great beast and was a great magician and was for a while a member of the famed 'Golden Dawn'. He once met with DW for lunch at the Hungaria restaurant but we do not know exactly what they talked about. He presented a signed copy of his most famous book Magick in Theory & Practice to DW. DW stated that Canon Copley Style is often taken for a portrait of Crowley but this is not so. Mocatta in the 'Devil Rides Out' was much more like Crowley, although not a conscious attempt at a portrait.
Montague Summers
was born in 1880. It was said that he had never been ordained, but he dressed with white curls hanging down the sides of his face and looked like a restoration bishop.
DW and Joan went to stay with him for a weekend at his house in Alresford. The bedroom was full of big spiders on the ceiling. In the garden Joan came upon the largest toad she had ever seen. In the evening Summers attempted to sell a very rare book to DW. When he declined to buy it for £50, Summers face became positively demoniac. He then stamped out of the room. DW & Joan departed early the next morning, never to see the, perhaps not so reverend, gentleman again. DW modelled Canon Copely-Syle in 'To the Devil a Daughter' on Summers shortly after he died.
Rollo Ahmed. Very little is known about Rollo Ahmed. DW said that he was one of the most unusual men he had ever met. He was born in Egypt, had charming manners & laughed a lot. There was little he did not know about Voodoo He was also an expert on Raja Yoga. In the 1930s Hutchinson asked DW to write a serious study of the occult. DW didn't feel confident enough to do it justice and suggested Rollo. He produced a book entitled, 'The Black Art'; it was one of the best DW had ever read. It is possible that he was used as Canon Copely- Syle's servant in 'To The Devil - A Daughter', and Ken G suggested he might also be the basis for Doctor Saturday in 'Strange Conflict'.
Alexander Cannon
was born in 1896. He was a British psychiatrist, Occultist, hypnotist and author.
In Chapter III of The Devil Rides Out, where the Duke is trying to convince Rex of the existence of Magic, he refers to 'the invisible influence which is all around us'.
Rex says 'The Invisible Influence. I've certainly heard that phrase somewhere before', and the Duke replies 'No doubt. A very eminent mental specialist who holds a high position in our asylums wrote a book with that title and I have not yet asked you to believe one tenth of what he vouches for'.
The Invisible Influence' (from which Nick read an extract) was first published in 1933. In Chapter eleven, Cannon tells the story of a black magician who invokes 'the Angel of Death, the black rider on the black and fiery steed, who carried a fiery sword'. Of course the Angel of Death also features in Revelations 6, but given DW refers to Cannon's book, maybe at the very least it gave DW a prompt.
The conclusion from this was that DW was not afraid to take inspiration wherever he could find it, which meant by meeting people, reading fact as well as fiction and by making the information his own and turning it into a quality read (as by his own admission, ....I can really tell a story). Neither was he afraid to believe at least a certain amount of what he gleaned....particularly from Joan Grant.
The last major author to be discussed was
William Hope Hodgson
, who never really gained the acclaim that was due to him. He was born in Essex in 1877 and his notable works were 'The House On The Borderland' and 'The Night Land' together with the 'Carnacki' stories (one of which we were to watch on DVD later in the day).
Charles introduced the reading of an extract from Hope Hodgson's 'The Gateway of the Monster' (1910). Nick's mellifluous voice kept the audience enthralled whilst we listened to items such as the 'Saaamaa Ritual', Electric Pentacle, Black Veil, Slamming Doors and a Dead Cat!! (Any similarities to certain DW novels are probably not co-incidences ☺).
Charles then read an extract from another Carnacki story, 'The Whistling Room', which was very similar to the time when the Duke de Richleau & Rex Van Ryn try to rescue Tanith in 'The Devil Rides Out' with the aid of various protections e.g. Garlic, Mercury & Salt. Charles also read other references from Hope Hodgson stories where the term 'Saaamaa Ritual' was used. The term Sussamma Ritual was used by DW in TDRO which is very close to Hope Hodgson's spelling. In fact Montague Summers always believed that "Hope Hodgson had invented that mysterious & most effective name".
The buffet lunch was served at 13.00 and we all tucked into main dishes of salmon and/or chicken with ginger washed down with ample liquid refreshment. The desserts were cheesecake and/or fruit salad.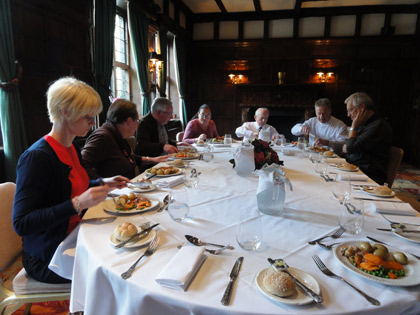 The group at lunch
After doing ample justice to the lunchtime spread we re-assembled in the Arkley suite to listen to some music and view the items on display.
By this time the remainder of the travelling 'Museum pieces' had been put in place on tables at the rear of the room.
John Runter put out some books on Crowley and newspaper cuttings with DW short stories from the 1950s.
Mary & Ken G put out a signed copy of The Seven Ages of Justerinis and a Belgian (?) poster of The Devil Rides Out.
Steve Whatley put out a French booklet dating from 1938 about the film they called 'Le Secret de Stamboul'
Charles Beck's travelling Museum, assembled from various sources, comprised :
DW's copy of 'Magick in Theory and Practice'
Montague Summers' letter thanking DW for his autographed copy of 'The Devil Rides Out', and the autographed copy of 'Essays in Petto' he sent him in return
Rollo Ahmed's handwritten instructions on Yoga for DW, plus DW's autographed copy of 'I Rise'
A first edition of 'The Invisible Influence'
Alexander Cannon's copy of Rollo Ahmed's 'The Black Art'
And an original poster for the US release film of 'The Forbidden Territory' in 1938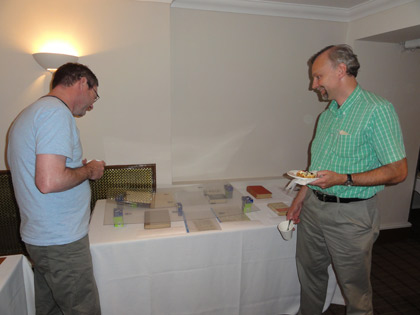 Steve Whatley and Ken G peruse the 'travelling Museum'
Then came 'Dennis Wheatley's Desert Island Discs'. This comprised of eight selections for the 1972 BBC radio broadcast. The selections were as listed and the audience were "treated" (?) to renditions of them all.

The Man Who Broke the Bank At Monte Carlo - Charles Coborn
It's a Long Way To Tipperary - The Chelsea Pensioners
If You Were The Only Girl In The World - Violet Loraine & George Robey
Land Of Hope And Glory - Sir Edward Elgar - Land Of Hope And Glory - Sir Edward Elgar
Merry Widow March (Franz Lehar) - Sadler's Wells Opera Company Orchestra
Merry Widow Waltz (Franz Lehar) - Sadler's Wells Opera Company Orchestra
The Washington Post (March) - John Souza - Band Of The Blues and Royals
La Marseillaise - Paris Opera Chorus Claude-Joseph & Rouget de Lisle
I'll See You Again (Noel Coward) - Peggy Wood & George Metaxa
It was significant that none of the songs selected by DW was written after 1929. (I would like to say at this point that I, along with Nick, very much enjoyed the 'deliberately drunken rendition' of Charles Coborn's 'The Man Who Broke the Bank At Monte Carlo').
It is traditional on Desert Island discs to ask the guest which book & which luxury item he would like to have taken to the island with him. DW chose the Encyclopaedia Brittanica & his stamp collection!!! (my choice would have been a dripping wet Bond girl walking out of the sea in a loin cloth..... Whatever)!!
The attendees were kindly given a CD of these songs thanks to the generosity of Duncan West.
At last year's meeting Nick was unable to attend and so Charles stepped in to try and cover the subject of 'Astral Projection: Fact or Fiction?' This he did admirably but this year Nick was able to offer his own story.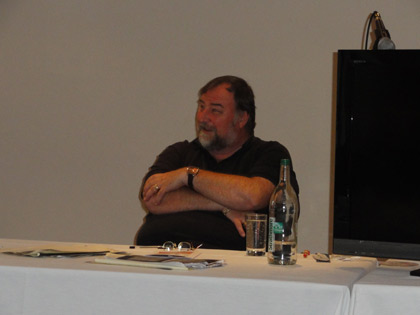 Nick gives his talk on Astral Projection
Nick told us of his experiences pertaining to activities on the Astral. Some good, some not so good.
He first saw a ghost when he was 11 years old. It was the ghost of his Father. Nick wanted to see him and his wish became partially true as he 70% materialised in front of him. Nick became naturally anxious and the apparition vanished.
When Nick was in his twenties he was working as a 'Roadie' with the band Argent. His wages were paid generally in Curries and KFC's. He took the opportunity to visit a friend who was living in nearby Salisbury and stopped in a field overnight to get some sleep before continuing his journey. Overnight his sleeping bag was beginning to get wet....It was then that he had his first meeting with a 'Tree Spirit' ("It could have been a dream" said Nick "but this was much more vivid").The Tree Spirit was approximately 3 – 4 feet small ☺ , he was old and gnarled with very large hands. The spirit took both of Nick's feet in his hands and warmed them up.
As Nick grew older he started to work with wood and it became a natural reaction to welcome the 'Tree Spirits' into his life. However they tended to overwhelm his life as they had a tendency to jump on his back and put their arms around you and squeeze. This was not pleasant and Nick had to forcibly tear them off.
Nick had a wagon in his garden and the spirits would insist on moving or hiding things. On one occasion when Nick was feeling poorly from an infection he woke up in the middle of the night and decided to go downstairs to allow Mally to get some sleep. When he entered the lounge he noticed a bright red light which he thought was the light on the DVD player. The light then got much bigger. Then there was a feeling of ice cold water being poured all over him. It was then that he saw the black Imp like creature which proceeded to jump onto his chest and started banging his chest. This was the start of the Imp infestation and the accompanying problems such as cutting himself, his Nintendo being moved and general mayhem. There was also a flood in the kitchen at this time. All these things prompted Nick to leave the cottage.
He has now progressed to a higher level astral plane where he is now able to enjoy it rather than fear it. He now enjoys lucid dreams where he is able to float around pleasurably, control his flights through the air, enjoy the vivid detail of the surroundings and generally 'clown around'. He feels much more rested after visiting the 'second level plane'. The first level is full of 'Pond Life' and generally should be avoided if possible'.
Nick asked the question "Is this really the Astral Plane or Dreaming?" and answered "I can't really answer that"
We then decided to go outside the Hotel in order to take the annual 'Team Photograph' by the front door.
Upon our return there was a little interlude whilst Charles and Steve read passages from a selection of DW books whilst the remainder had to try and decide which book we were reading from. Most of the books were eventually guessed by our knowledgeable readers.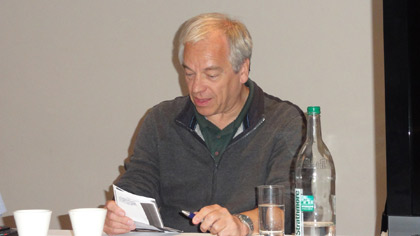 Steve Patton poses a question
At 17.15 we watched a 1953 film, 'Scotland Yard: The Missing Man' which was written & directed by Ken Hughes and introduced by Edgar Lustgarten. While his name did not appear in the credits, as Garry Holmes pointed out in the Library in the summer, the story was obviously based on the murder of DW's great friend from the Great War, Gordon Eric Gordon Tombe.
Immediately afterwards, we watched the great man himself, Sir Christopher Lee, being interviewed about the making of his Hammer films, including 'The Devil Rides Out'
We reconvened at 19.00 in the Edgwarebury Bar for cocktails (and any other drinks for that matter)..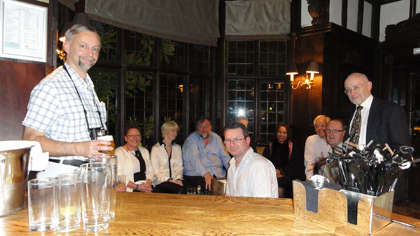 In the bar before dinner
As it turned out, the bar was very busy, as in addition to our Coven there were two other parties gathered there. One was from the local Farriers group who were trying to sell us raffle tickets thinking we were all a load of Farriers (at least I think that's what he said!!)
Then a strangely dressed woman walked up to me (I seem to attract them!!) and introduced herself as a Psychic. She asked if we were part of her group. I was about to say, "Well you should know" but refrained. Apparently she was part of the local Murder/Mystery group who were also performing there that night.
Due to the volume of people there that evening we went into dinner at 19.35 (not the regulatory 8 o'clock I'm afraid). Mary & Ken surprised us all with a special pre-Dinner 'DW' drink of Peach Bola (the constituents of which is listed in 'The Seven Ages of Justerinis') and very enjoyable it was too. (Thanks also for the lovely assortment of sweets presented earlier that day).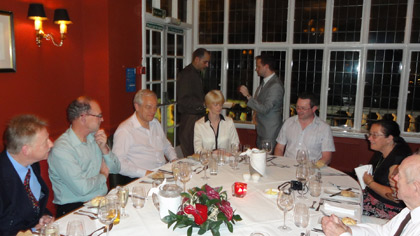 The waiters serving the 'peach bola'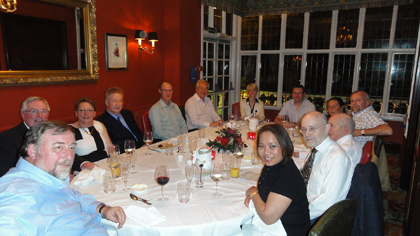 Dinner
During the meal we toasted DW with our traditional toast :
"To Dennis Wheatley, wherever he may now be;
With the hope that in his next life he will enjoy
Similar health and good fortune
As he was blessed with in his last,
And that in our future lives we shall meet...
Coupled with the name of Bob Rothwell"
And later in the meal Charles read out a message from Iwan and Margareta in Spain.
Due to the earlier start we left the dining room at 21.30 and took our coffee in the Arkley suite.
Steve Whatley and Jean Wilkinson passed round a large box of assorted chocolate mints. Very welcome too, thank you both.
Bill demonstrates his skills with the banjo
We were delighted & honoured to listen to a musical extravaganza in the guise of Bill S who had brought his 5 string banjo along to get the audience in vibrant mood for the final film; which by a vote of hands turned out to be, 'The Horse of the Invisible', from the TV series, 'The Rivals of Sherlock Holmes' which was originally shown on 18th October 1971. It starred Donald Pleasance and Michelle Dotrice in a William Hope Hodgson story.
The Horse of the Invisible is, like most of Hodgson's weird tales, very weird indeed, although a very fine TV adaptation, and the casting of Donald Pleasence as Carnacki makes it a must-see film!
It is basically a story of a family which suffers from an unusual curse. Whenever the eldest child is female, she is menaced by a mysterious invisible horse on the eve of her wedding. Now for the first time in a century the first-born child is again female, and she's about to be married. And sure enough the invisible horse has made its presence felt. Can Carnacki protect the daughter of the family for long enough to allow her to be safely married?
It was now time to go to our respective beds at the slightly earlier time of 23.15. An excellent time was had by all and in hindsight the 4th Convention seemed to have gone even quicker than usual.
A sure sign that it had been well worth the trip. Long live the Convention & thanks to you all for attending and making it another excellent occasion.
Once again a big vote of thanks must go the main organiser(s) - Charles Beck, Nick Dow and Steve Whatley for all their hard work in organising the 4th DW Convention.
Here's to the 5th which will be held on the 3rd November 2012.
This page last updated Copyright © 2002-2006 Bob Rothwell. 2007-2022 Charles Beck.