Dennis Wheatley:
An Introduction

Dennis Wheatley was born in London in January 1897, the son and grandson of Mayfair wine merchants. From 1908 - 1912 he was a cadet on HMS Worcester, then spent a year in Germany learning about wine making. In September 1914, at the age of seventeen, he received his commission and later fought at Cambrai, St. Quentin and Passchendaele.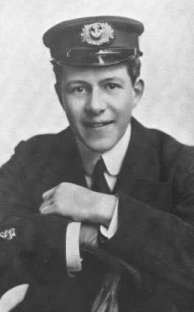 Gassed, he was subsequently invalided from the army and entered the family wine business, and following the death of his father in 1926, became its sole owner. During this period he began to write short stories, a number of which were later published or expanded into full-length novels. Following the failure of his first marriage, in 1931 he married Joan Younger.
Wheatley's business was badly affected by the slump of the early thirties and by 1932 he was forced to sell up and came close to bankruptcy. As a diversion from his financial worries and with the encouragement of his wife, Wheatley set about writing a full-length murder mystery that he called 'Three Inquisitive People'. His agent's reader considered the book to be weak, commenting:
"This story shows considerable promise but does not conform to the accepted formula for murder stories. We do not see enough of the murderer, and the construction is poor in that the heroine is not brought in early enough and plays no essential part, and that after the point at which the book should normally be concluded there is a long epilogue tacked on which is unduly loaded with bathos."
However, this book introduced the characters of the Duc de Richleau and his friends who were to become Wheatley's most popular inventions. Whilst 'Three Inquisitive People' was in the hands of his agent he set about writing a second book featuring the same characters, 'The Forbidden Territory', which was immediately snapped up by Hutchinson. This adventure story won immediate acclaim from both the press and public alike. It was reprinted seven times in as many weeks, was translated into many languages and the film rights were bought by Alfred Hitchcock.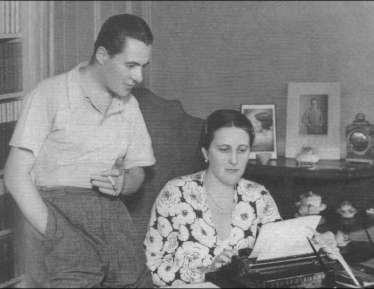 This book was followed by a string of thrillers that, throughout the 1930s, propelled Wheatley into the category of best selling author. As an avid reader himself, and fanatical collector of modern first editions, he was familiar with the work of authors such as H. Rider Haggard, Conan Doyle, William Hope Hodgson, John Buchan and his particular favourite Alexandre Dumas, and was influenced in varying degrees by each. His work in the thirties seemed to be perfectly in tune with the spirit of the age, enforcing the virtues of imperialism in which he totally believed, and countering the rising threat of communism.
In 1939 he became the editor of the 'Personality Pages' of the Sunday Graphic and a volunteer speaker on behalf of the war effort. In the early days of the war, despite his best efforts, Wheatley was unable to find suitable war-work and so continued to write his novels, being one of the first writers to use the real life events of the day as the backdrop to his stories.
Then in May 1940, following a chance conversation between his wife and her passenger while she was a driver for MI5, Wheatley was commissioned to write a series of papers on various strategic aspects of the War. These 'War Papers' were read by the King and the highest levels of the General Staff, and as a result in December 1941 he was re-commissioned, becoming the only civilian to be directly recruited onto the Joint Planning Staff. With the final rank of Wing Commander, for the rest of the War Wheatley worked in Churchill's basement fortress as one of the country's small handful of 'Deception Planners' who were charged with developing ways to deceive the enemy of the Allies real strategic intentions. Their top secret operations, which included the plans to deceive the enemy about the true site of the Normandy landings, were highly successful and saved countless lives.
After the war he moved to Grove Place in Lymington and continued his writing. Throughout most of his career, Wheatley produced two novels a year although this later dropped to one, usually having a summer release.
As well as producing adventure stories, Wheatley also turned his hand to biography producing two in the 1930s, 'Old Rowley' (1933) and 'Red Eagle' (1937). The four crime dossiers he produced with Joe Links in the 30s were an enjoyable and profitable diversion for him. Reproduced as 'facsimiles' in the late 1970s, the originals should be sought out by collectors as many of the physical clues are reduced to photographs in the reprints.
With the popularity of paperback editions of his works, his sales rocketed. In the UK alone he sold over 1,000,000 copies of his books a year during the 1960s. Also in the 1960s, two of his most popular titles, 'The Devil Rides Out' and 'Uncharted Seas' (renamed 'The Lost Continent') were filmed by Hammer and negotiations took place to turn some of his books into a TV series.
By the 1970s Wheatley completed the series of Roger Brook novels and set about writing his projected five-volume autobiography. This was later reduced to four volumes with two of them being much condensed.
He died of liver failure on 10 November 1977 at the age of eighty leaving behind him a massive body of work. He was cremated at Putney Vale and his ashes were buried at Brookwood Cemetery, Surrey, under a tree near the entrance.
For a more comprehensive account of Dennis Wheatley's life, read Phil Baker's definitive biography The Devil is a Gentleman or visit the site's Virtual Museum
Out Of Print
Wheatley's work falls into a number of distinct categories. There are the series novels, books that involve the same central character or characters more than twice. These are: Duc de Richleau; Gregory Sallust; Roger Brook; Julian Day. There are ten non-fiction titles; two collections of short stories; four crime-dossiers; and 'out of series' titles of which there are eighteen. Wheatley also edited two major collections of short stories for Hutchinson as well as the series of paperbacks, 'The Dennis Wheatley Library of the Occult' and wrote innumerable articles.
During the 1960s and 1970s Wheatley's work had phenomenal sales. Information from Hutchinson compiled in 1972 for UK sales alone records that his eight black magic books: The Devil Rides Out, Strange Conflict, The Ka of Gifford Hillary, To the Devil—A Daughter, The Haunting of Toby Jugg, The Satanist, They Used Dark Forces, Gateway to Hell, had an average annual sale of 80,000 copies per title. His remaining (at that time) 59 books, all of which were in print, recorded average annual sales of 12,000 copies per title per year. These combined rates give an annual total of over one million copies a year in the UK alone. To satisfy this demand, Hutchinson produced massive initial print runs of his books. Gateway to Hell (1970) had a first print run of 200,000 copies. By the time of his death in 1977 it is estimated that Wheatley had sold in excess of fifty million copies of his books worldwide.
It is interesting to note then, that twenty-five years after his death, his books have all but disappeared from bookshops. Where, at one time, W.H.Smith displayed shelves of his titles, now there are none.
There are a number of reasons for this. Wheatley's work is firmly fixed within the white, Anglo-Saxon, protestant imperialism of the late nineteenth/early twentieth centuries. He makes no bones about proclaiming the superiority of the Anglo-Saxon race above all others. There are various instances of sadism in his work, primarily directed at women (albeit not by the heroes). Satanism (the left hand path) equates in Wheatley's mind with socialism (the political left). As with many writers of this period, his leaning towards the extreme right of politics was seen as providing a bulwark against the encroachment of the extreme left into literature as typified by the publications of Victor Gollancz and the socialist intellectuals of 'The Left Book Club'.
He praises both Mussolini and Franco and somewhat cringingly, refers to Hitler as 'His Excellency' in his pre-war book 'Red Eagle'. In the Gregory Sallust war stories he makes Hermann Goring a largely sympathetic character. In Goring he saw an upper middle-class epicure and hero of the First World War with a strong sense of duty and nationhood, yet a man who could still share a dirty joke. These are the qualities that Wheatley possessed and admired in others.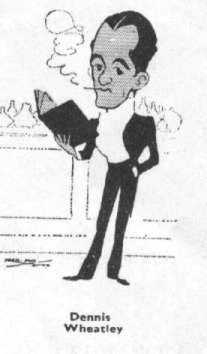 Also, his work often slides into the medieval conceit of equating physical disability or disfigurement with evil; whether one-armed, hare-lipped, or cross-eyed, all could mark one out as a potential acolyte of the devil. Therefore, a percentage of Wheatley's writing is distasteful by modern standards and some of his tirades of breathtaking vulgarity against racial minorities, which would have been quite at home in the pages of 'Der Sturmer', render these passages unprintable today.
Accusations of having fascist sympathies were levelled at Wheatley in the 1930s with some justification, but unlike other writers, most notably Henry Williamson, he never allied himself to the fascist cause in Britain. His political views were essentially Conservative, albeit to the right of that party. From a distance, he admired the tough stance of Italian and Spanish fascism, its patriotism and its pro-active anti-communism, but always recognised that fascism was essentially a foreign phenomenon and counter to the British way. He loathed Oswald Mosley, whom he condemned unreservedly as a traitor, and his tireless and unique work for the Joint Planning Staff during the war, demonstrated beyond question that his loyalties could never stray from the liberal democracy which he saw manifest in the established British political system.
Wheatley's gushing patriotism now seems completely out of step with the post-colonial sensibilities of a modern, multi-cultural Britain. But in harking back to a 'golden age' of certainties, his work can provide solace to a people (and I mean the English) who are, at the beginning of the twenty-first century, struggling to come to terms with an increasingly nebulous national identity.
Amongst his massive output, there are some true classics. 'The Devil Rides Out' is one of the great occult novels of the last century. 'Strange Conflict', 'The Ka of Gifford Hillary', 'The Golden Spaniard' and 'The Haunting of Toby Jugg' all have great merit. His historical research was impeccable, adding vivid colour to his Roger Brook series. His descriptions of location are often beautiful and he would have made a marvellous travel writer, but a number of his books are spoiled by blatant authorial intrusion that results in his characters simply lecturing each other rather than engaging in meaningful dialogue and sometimes the plot stalls as a consequence.
The sun may have set on the British Empire, but the work of Dennis Wheatley still manages to engage interest, and collectors are pushing the prices of his early books higher with every year that passes.
If the reader can put aside his failings, Wheatley's novels are capable of creating a strikingly cinematic world of luxury and excitement. His characters all live life to the full, defeating evil at every turn, unfettered by financial concerns.
In his private life, he was a charming man with a boyish sense of humour and much loved by those who knew him. His religious convictions were not orthodox, leaning as they did towards Buddhism and the belief in repeated reincarnations. He did, nevertheless, seek to lead a Christian life and had enough humility to be genuinely touched by the praise that was heaped upon him. It was only towards the end of his life that he stopped replying in person to every letter written to him by his many fans, continuing to reply, however, to those that he considered were of a serious nature. In spite of the colossal tax burden of the 1960s, when the royalties from every four out of five of his books sold went to the exchequer, he remained steadfastly in the country he loved, and although he was for many years Britain's most successful writer, received no public honour.
Just before his death in November 1977, Wheatley received conditional absolution from his old friend Cyril 'Bobby' Eastaugh, Bishop of Peterborough. In a brief note of thanks written in a wavering, almost illegible hand, shortly afterwards, he reinforced his belief in reincarnation:
"Our friendship has been a long one but I am convinced that it will continue eternally and that we shall meet many times elsewhere."
He died two weeks later.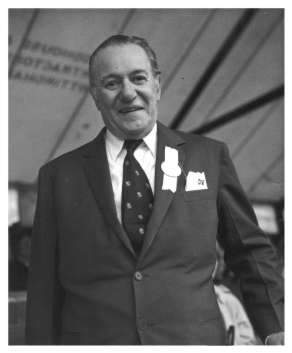 For a more comprehensive account of Dennis Wheatley's life, read Phil Baker's definitive biography The Devil is a Gentleman or visit the site's Virtual Museum

A Note for Collectors of First Edition Wheatleys

During 2000, a first edition of 'The Forbidden Territory' was sold at auction to a dealer for £3,200 plus premium. Admittedly, this was a copy that Wheatley had presented to Christina Foyle, nevertheless, it demonstrates by just how much prices for his early work have risen in recent years. Three years earlier a jacketed, signed copy of the same book in very good condition would have cost less than £800. The same can be said of 'The Devil Rides Out' which the same dealer also bought for £3,200 (together with 11 'lesser' items). While the prices were pushed up by the provenance of these particular copies, first editions of Wheatley's most popular novels in pristine condition and with even modest inscriptions can now fetch high prices. For example, a pristine, signed and jacketed first of The Devil Rides Out with a wrap-around band sold for £4,500 plus premium at Bloomsbury in December 2008 – possibly a record.

At the top end of the market, Dennis Wheatley's own collection of his own works, uniformly and sumptuously bound in blue crushed Levant morocco, with an armorial bearing on the front of each volume (Blackwells Catalogue of Dennis Wheatley's Library 1979, item 1, priced at £4,500; rumoured to have been acquired at that time by the Getty Library) was sold at Christies, London in December 2012 for £20,000 (£16,000 plus buyer's premium).

While prices for his less famous early novels have not reached anything like these levels, they have also seen increases. One of the problems encountered when looking for these early titles is that the vast majority of those that have survived with jackets are signed copies for which dealers add a large premium. Also, although 'The Forbidden Territory' and 'The Devil Rides Out' are not exactly common, over the past few years they have appeared for sale more often than other titles from the same decade. Jacketed copies of 'Such Power is Dangerous', 'Black August', 'The Fabulous Valley' and 'Sixty Days to Live' turn up less often but the prices are lower – generally being in the region of £500 to £ 1,500. The scarcest book from this era is the 1939 omnibus 'Those Modern Musketeers' (a later omnibus with the same title was released in 1954 and is quite common), of which only a small handfull jacketed copies are known to exist.

Wheatley's later novels are far more common as they had considerably larger initial print runs. Indeed, most of his books published between 1950-1980 can be found at almost giveaway prices of between £5-£30. For collectors starting out now, who don't want to spend thousands of pounds, the wisest course would be to combine the later trade editions with Lymington editions of his earlier work. The Lymington editions were specifically designed by Hutchinson for collectors and are attractive books in equally attractive dust wrappers (mostly designed by Robert Graham), and although some titles can be tricky to find, it shouldn't prove an impossible, nor a financially prohibitive, task. As an alternative, they can buy the 1970s 'Heron' editions, which can still be bought for next to nothing.

<!it shouldn't prove an impossible, nor a financially prohibitive, task.

This page last updated Copyright © 2002-2006 Bob Rothwell. 2007-2017 Charles Beck. Article Copyright © Richard Humphreys, 2002.