In the early 90s a song-writer from the Wirral, Colin McCourt, conceived the idea of a musical based on DW's 'The Devil Rides Out'. The outcome was a few locally produced shows, the most notable starring Bernie Nolan in her first solo appearance in a musical rôle at Liverpool's Neptune theatre.
Colin tells the story on his web site, www.thedevilridesoutmusical.com, and has given me permission to 'construct' an interview using actual conversations between us and his words from his web site: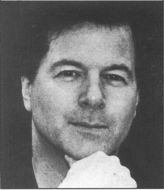 Colin McCourt (in his earlier days!)
Question: What was your inspiration for this project?
Answer: I'd been a songwriter for some years and this great story inspired me more than words can say to turn it into a musical. I could hear the Duke warning Simon against becoming involved with the Occult. I could feel Rex's anguished love for Tanith as he pleaded with her to abandon The Left Hand Path. I could see her running across the night covered fields of Salisbury Plain on her way to The Great Sabbath. And I knew what Mocata would say as he tried to hypnotise Richard's wife into surrendering Simon. The musical almost wrote itself. I just hung on, thrilled at the ride.
Question: I understand some of my visitors are likely to get very envious on hearing about a meeting you had with Dominic Wheatley, the grandson of DW?
Answer: Possibly: the novel was owned by the Wheatley estate and I had to get their permission to write and produce such a script. To cut a long story short, Dominic, Dennis's grandson, telephoned me and I explained what I had been up to. I played Dominic a track over the phone and thank God he liked the music. This led to a meeting in London where I recall the wonderful moment driving through London with Dominic with my music blaring out on the car stereo. The picture below depicts the moment when Dominic and I opened a paper parcel that contained Dennis Wheatley's original manuscript. This was the first time that it had been opened since 1934! I recall the original working title was 'Black Magic', which later became 'The Talisman of Evil' before it finished up with its more well-known title.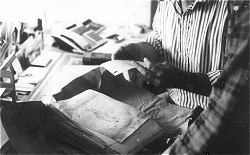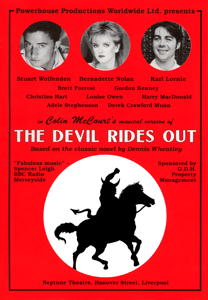 Programme for Bernie Nolan's début at the Neptune Theatre.
Also includes a note from Anthony Wheatley, a mini-biography of DW and a 6-page article on the occult and Satanism entitled 'Walking in Shadows' by Slim Stewart-Parry
Question: What actually happened to the musical?
Answer: The musical got its début for one night at the Floral Pavilion in New Brighton, in the Wirral, around 1992 and featured local talent. David Ciano then joined me, playing de Richleau and we did a production at Leasowe Castle Hotel in the Wirral before moving down to the Rose Theatre, London for a 3 week stint and then back to the Leasowe Castle.
I was then fortunate enough to get backing from a local businessman to mount a full production in Liverpool. We managed to get Bernie Nolan to play the part of Tanith and she had her musical theatre début when we opened at the Neptune theatre in Liverpool during 1993. This ran for 12 days and got great reviews. I then continued to produce the show in various venues throughout Liverpool, but without a good financial backer (aka an 'Angel') I was not able to take it further and became involved with my new musical version of 'Valley of the Dolls'.

Question: What's the reason for producing your new CD?
Answer: I've released the double album of 'The Devil Rides Out' and hope to stage the musical in London if enough finance can be raised from 'Devil's Angels'! Dark 'Gothic' shows such as 'The Phantom Of The Opera' have proved there is a market for the show and its timeless story of good overcoming evil is as relevant today – if not more so – than when it was written.
Question: Is the CD, in reality, a soundtrack of the music from the show?
Answer: No: none of the artists performed in the musical, they are all local artists, including Billy Kinsley from 'The Merseybeats' and 'Liverpool Express', who sings the part of Rex and Kenny Parry, also from 'Liverpool Express' who sings the part of de Richleau. Also from 'Faron's Flamingo's' the incredible Faron (Mocata) and Phil Melia (Simon) as well as a host of other fantastic friends.
Some of the songs on the CD are also new and did not appear in the original production.
Question: How do we get a copy of the CD?
Answer: You can order through my web site at www.thedevilridesoutmusical.com/buy_album.htm.
Colin with Bernie Nolan:

Bernie Nolan (as Tanith) singing
'The Gateway Of The Pit'
at the Neptune Theatre, Liverpool:
Track details from the CD The Devil Rides Out:
(Click on the CD to hear brief extracts from some of the tracks)
Act One

| | |
| --- | --- |
| The Incomplete Reunion | |
| Magic Will Happen Tonight | |
| The Curious Guests Of Mr. Simon Aron | |
| The Devil Rides Out | |
| I'm Not A Child Anymore | |
| The Esoteric Doctrine | |
| I Want You | |
| The Silent House | |
| Where There's Life There's Hope | |
| Under Your Spell | |
| As Close As This | |
| The Gateway Of The Pit – Pt. 1 | |
| Walpurgis Night | |
| The Gateway Of The Pit – Pt. 2 | |
| The Complete Reunion | |
| Fighting Back | |
Act Two

| | |
| --- | --- |
| Demons | |
| The Curious Guests Of Richard & Marie Lou Eaton | |
| Love Has Found A Way | |
| I Love You | |
| Tanith | |
| The Satanist | |
| The Truth Will Always Out | |
| Lord Of The Light | |
| Within The Pentacle | |
| Lord Help Us Now | |
| Can You Bring Her Back | |
| Simon Aron Takes A View | |
| Flight To Metsovo | |
| The Temple At Metsovo | |
| The Power Of Light | |
---
Background gleaned from various web sources, with suitable acknowledgements:
---
Faron's Flamingos – acknowledgements due to Arty Davies. (article written by Colin McCourt)
When I was looking for singers to record the vocals on my musical version of 'The Devil Rides Out' I was lucky enough to go to the Pacific pub in Birkenhead on the Wirral to see the sax player Brian Jones who was playing in the group Faron's Flamingos. I needed someone to sing the part of the satanist Damien Mocata. He had to be able to sing rock for the big black magic songs but also be able to be sensitive and charming for a hypnotic seduction song. When Faron began to sing I couldn't believe the talent of the man. He was able to belt out rock songs with power and passion and also sing gentle love songs that almost had one in tears. I asked him would he do the songs for the album and thank God he said yes.
I arranged to meet him at a club he was playing in New Brighton on the Wirral and I remember sitting in his guitarist's car and playing him a cassette of one of the songs for the album. I had previously lived in London and had written and recorded the song, 'I Want You', with session musicians and myself singing. Faron learnt the song and came to Paul Brook's studio a week or so later. It was a hot summer's day and I stood at the mike with Faron guiding him thru the song. He put so much effort into singing that he was dripping in sweat after the two takes it needed to get the song down. He was a dream to work with, being very positive about the project, even refusing payment for the session.
I wrote and recorded many more songs from the album with him and he was always thoughtful, kind and hard working throughout the sessions. His wonderful voice and personality brought the character of Mocata to life and captured the exact feeling I needed.
I must also say that I believe him to be one of the greatest live performers I have ever seen – and I've seen a lot! I don't think even Rod Stewart would dance on tables whilst singing or follow girls (almost) into the Ladies while rockin' and rollin'! He's a hell of a musician and songwriter as well.
I feel privileged to know the man and, seriously, regard him as one of the living legends of music.
Colin McCourt
Colin McCourt was born in Wallasey in the Wirral and after playing in various rock groups in his teens he began writing songs and moved to London, eventually becoming a staff writer with Screen Gems/Columbia Music. He has written with Neil Sedaka, Mike Batt, Roger Greenaway, Barry Mason and Jeff Daniels, who co-wrote the Cliff Richard musical 'Time' with Dave Clark. Colin's songs have been recorded by such artists as The Drifters, Charlie Pride, Isla St. Clair (his ex-girlfriend!) , Our Kid (Colin wrote the follow up to their hit record 'You Just Might See Me Cry'), Liverpool comedian Johnny Hackett, Diane Soloman and the Bristol girl jazz vocal group 'Sweet Substitute' who's single, 'I Give In', written by Colin, received extensive Radio 2 airplay from Terry Wogan. Also, with Roger Greenaway, he wrote the theme song for B.B.C. T.V.'s 'Seaside Special'.
Through his contact with Roger, Colin became Assistant Label Manager with Decca Records and was part of the A & R team that signed up Adam And The Ants. He also worked with the Moody Blues, being responsible for the release of their worldwide hit 'Stepping In A Slide Zone' and was involved in the release of the Justin Haywood single 'Forever Autumn' from the album 'War Of The Worlds' (Justin was signed to Decca at the time and the Jeff Wayne album was to be released on C.B.S. Records).
He left Decca to work for B.B.C. television in Contracts and Finance then decided to return to Wallasey. He wrote the musical version of 'The Devil Rides Out' which has had rave reviews in Europe and America – Bernie Nolan appeared as the satanist Tanith in the stage version, a musical version of the novel 'Valley Of The Dolls' and a young peoples anti drugs musical called 'Love, Dreams And Rainbows'.
He also adapted, produced and directed the Elvis film 'Jailhouse Rock' for the stage, wrote, produced and directed the musical 'Elvis – The Sun Sessions' and produced a Billy Fury Concert Show. His last project was 'Stand By Your Man', the story of country music women for The Moreton Community Players – having written, produced and directed the shows 'One Moment In Time', 'Hollywood Nights' and an Elvis Concert Show for them. Colin has also appeared in the film 'In The Name Of The Father' and the T.V. series 'Soul Survivors'.
---
BernieNolan.com (The Devil Rides Out)
The Devil Rides Out: In 1993 Bernie made her acting debut in 'The Devil Rides Out' – a show about devil worship & black magic. "My image is too squeaky clean" said the blonde haired star, "It's very hard to live up to & impossible to live down but this show may change things a little." Bernie swapped her sequins for a black cape to star in a musical adaptation of Dennis Wheatley's classic tale of the occult at Liverpool's Neptune theatre.
"I was more nervous than I was when The Nolans toured with Frank Sinatra or did a Royal Variety Show because I was on my own. To turn around on stage & find your sisters not there was quite a frightening feeling after more than a decade of touring as a family," she said.
Bernie played a spiritual medium who battles against the Devil & the Angel of Death. "The character is under the influence of a thoroughly wicked man who tears up the bible & spits on it & drinks blood as a human sacrifice. I have always wanted to do a musical & this one has soft rock songs that fit my taste – It also ends on an optimistic note with Good winning over Evil, which is how it should be."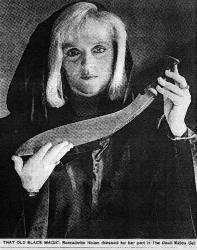 ---
'Little Shoppe of Horrors' issue No.13, (Richard Klemensen (USA), 1996), pp.35-36. Thanks to Colin McCourt for his permisson to show this article
(Magazine can still (Aug 2006) be purchased from FAB Press Online here in the UK)
Colin McCourt stands between Dennis Wheatley's grandson and son as they open his original manuscript for THE DEVIL RIDES OUT for the first time since he wrote it in the 1930s.

(Courtesy Colin McCourt)


Julie Bright sings the part of 'Tanith' in Colin McCourt's musical version of THE DEVIL RIDES OUT.

(Courtesy Colin McCourt)
THE DEVIL RIDES OUT
Colin Mc Court's Musical Version
Colin McCourt was born in the Liverpool area and played bass in a Motown influenced group before becoming a song writer and signing with Screen Gems/Columbia publishers. He grew up reading the Dennis Wheatley novel THE DEVIL RIDES OUT (with at least 13 British editions — he is looking for foreign editions, if any LSoH reader can help him.). His love for the book lead him to write a rock musical based on it, take it to the family of Wheatley (Wheatley's son Anthony and grandson, Dominic — who at over six feet tall, swept back black hair and an Oxford accent — appears as the typical Wheatley hero) and to aim for an eventual West End of London performance. The Wheatley company 'Domark' is a world wide producer of software for computer games and is extremely successful, with offices in London and California.
The original title(s) of 'Rides Out' were 'Black Magic,' then 'Talisman of Evil.' Personal letters show that Wheatley was not a satanist or ever took part in any occult ceremonies. McCourt has met several members of the movie cast including Paul Eddington (no longer with us) and Patrick Mower, who played Simon. Mower complained that because Chris Lee and Leon Green were so tall everyone thought he (Mower) was tiny, when in fact he is over 6 foot. Mower also told about Pat Allen dubbing Leon and that Allen is married to the lady who plays Mrs. Eaton (Sarah Lawson).
The show took McCourt about a year to write. He composed it on a Yamaha PSR-180, as he says "marvellous for writing, press a button and you've got the E Street band backing you." The title song was written first. The second song written and recorded was an opening duet between the Duc and Rex discussing their reunion and Simon's absence, and Dominic Wheatley's favorite song. But he replaced it as the lead-in song for the show with a seven minute up tempo song sung by Simon and the satanists, so that the show would open with a bang, rather than a gentle intimate conversation. He then wrote 'The Power of Light,' the closing song sung by the Duc, Rex, Simon, Richard, Mary Lou and Fleur when they are all safely back in England at the end of the show. In the film, Marie Lou becomes Marie and Fleur becomes Peggy.
Four productions have been put on locally and radio stations in the area have played cuts from the recording.
The singers were locals, all fabulous (especially the women). Bill Kinsley, was and is, still a member of the well-known 'Merseybeats.' Kenny Parry is the Duke and plays guitar on the title track; Billy is Rex; Phil Melia is Simon; Julie Bright is Tanith; Mandy Cullen is Marie Lou; Paul Brookes is Richard Eaton; Faron is Mocata; Keith Jarvis is the voice of 'ground control.' Many other contributed voices, instruments, etc.
Colin talks about his visit to the flat where Wheatley wrote the book — 48 Queensgate, London. "It was being gutted and turned into offices, which is a shame. It was a Sunday afternoon, but men were disemboweling it. When they took a lunch break I crept in and up to the first floor where Dennis lived and wrote TDRO. I walked around the small-ish flat, soaking up its atmosphere, imagining him here, looking out the window and working on the novel. This is where Alistair Crowley came for D.W. to pick his brains about the occult. The character person who he based Simon on lived around the corner. It's a lovely row of Georgian houses, like something from UPSTAIRS, DOWNSTAIRS."
Richard Goss and David Hartley are among the 'marvellous' partners who have backed this project with enthusiasm and money. Demo copies of what amounts to a double recording can be obtained from: (details removed for privacy)
(Editor's Note: I've listened to this music again and again and am totally knocked out by it. It could rival (and top) PHANTOM OF THE OPERA, and I totally recommend it.)
---
Update September 2009 : Colin has put a few excerpts of the Musical on YouTube.
To view them, click the following link :
http://www.youtube.com/user/devilridesoutmusical
They are definitely worth watching !!
OTHER LINKS:
David Ciano Starfish Enterprises Ltd (David Ciano) (link now obsolete)
The Merseybeats Merseybeats' News
Bernie Nolan BernieNolan.com (Bernie's biography); The Internet Movie Database (Biography for Bernie Nolan)
---
This page last updated Copyright © 2002-2006 Bob Rothwell. 2007-2018 Charles Beck.