Of the fifty-four published novels by Dennis Wheatley, it is surprising to find that only five were filmed. Unhappily, the making of two of these was dogged by continuous problems, and one became the swansong of a major British film studio. And if he was unlucky with the films based directly on his books, he was no more fortunate with the five original screenplays he wrote, none of which were taken up by a studio.

One of the main reasons why so few of his books found their way onto the cinema screen was that, on the whole, they were difficult to film. His historical titles in particular included battle scenes, complex plots and many different characters. Likewise, his occult novels had scenes that, until recently, would have been expensive to shoot convincingly. Add to this the fact that although his books sold extremely well in Britain, Europe and throughout the Commonwealth, he never achieved a similar popularity in America.

Wheatley loved the cinema and counted a number of film actors and directors among his friends. He had made the film industry the subject of his second published novel, 'Such Power is Dangerous', and had a good understanding of how the film-world operated.

One particularly good friend was the up and coming British director Alfred Hitchcock. Wheatley had been a guest on the set of many of his early films, and when 'The Forbidden Territory' was published in January 1933, he presented 'Hitch' with a copy. At a dinner shortly afterwards, Wheatley was pleased to discover that Hitchcock so enjoyed the book that he intended to direct a feature film of it. But, unfortunately, this promising beginning was soon beset with problems and disappointments.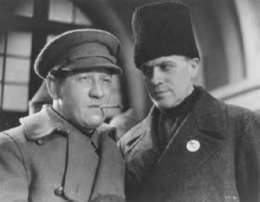 Gregory Ratoff and
Boris Ranevsky in
'Forbidden Territory' 1934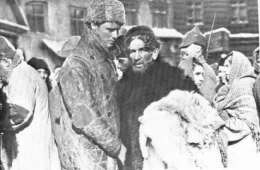 Anthony Bushell (left) in
'Forbidden Territory' 1934
Hitchcock was just in the process of moving to Gaumont-British studios and taking up a contract to work for Michael Balcon, so told Wheatley to hold onto the film rights until such time that he could persuade his new employer to purchase them. When the time came, however, Balcon wasn't interested and instead insisted that Hitchcock direct 'Waltzes from Vienna', a musical starring Jessie Mathews. Unperturbed, Hitchcock then approached Richard Wainwright, a distinguished producer who had been head of UFA films in Germany and had recently relocated to Britain. Wainwright was keen to pick up a promising new subject for his first British film, and immediately bought the rights. Although there was a verbal understanding that Hitchcock was to direct, Michael Balcon refused to release him, and instead began production of the famous thriller, 'The Man Who Knew Too Much'. Wainwright, committed to studio space, technicians and actors, had no alternative but to proceed without him and placed the film into the hands of the American director, Phil Rosen. This set back was soon followed by another, when Gerald du Maurier, who was originally cast to play the part of the Duc de Richleau (renamed Sir Charles Farringdon in the film), died before filming began and was replaced by Ronald Squire, whom Wheatley considered a totally inappropriate choice for the role. On its release in November 1934, it was denied a West-End premier and attracted little attention.

In his autobiography 'Drink and Ink', Wheatley bemoans this missed opportunity: 'If only Hitch had made it, Hollywood might have bought the rights to every book I wrote thereafter. But it was not to be.'
As it is, the film that can been seen today, and which was re-discovered in 2009, is somewhat hard to follow. This is only partially because the currently available film is the U.S. version, which cut out 8 minutes from the U.K. version, but more importantly because the producers ineptly shot a film that was far too long for the cinemas of the day; when completed it ran to 11,000 feet, and they had to edit it down to 7,000 feet before release. As a result, as DW explained in a contemporary letter to autograph-hunter Eileen Cond, audiences found the plot somewhat difficult to follow. To read DW's explanation, click here
Two years later in 1936, one of Wheatley's most popular novels, 'The Eunuch of Stamboul' was filmed as 'The Secret of Stamboul'.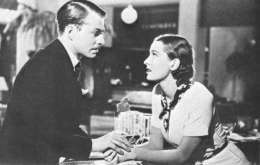 James Mason and Valerie Hobson
in 'The Secret of Stamboul' 1936
Richard Wainright once again produced it, and Andrew Marton, a Hungarian who later achieved fame directing the chariot race sequence for the 1959 remake of 'Ben Hurr', directed it. It starred a young James Mason alongside Valerie Hobson. The inclusion of Hobson probably helped it gain a US distribution as she had already appeared in a couple of Hollywood films, including 'The Bride of Frankenstein' the previous year. It was finally released in America under the title, 'The Spy in White'.
Around this time, Wheatley wrote an original screenplay entitled 'His Guiding Star'. This long and complex script of well over thirteen thousand words is an amusing light comedy/thriller similar in tone to Hitchcock's 'The Lady Vanishes', and like that film is stuffed full of stereotypical English types and incompetent foreigners. Unfortunately, there is no evidence that it was ever seriously read by a studio.
In 1936, at the instigation of Hitchcock, Wheatley wrote another screenplay, 'The Bombing of London', (published in 'Gunmen, Gallants and Ghosts', 1943). Throughout the thirties, he was utterly convinced that in any future war with Germany, London would be destroyed within minutes by bombing and felt that the government should wake up to this fact and take rearmament seriously. However, relying as the film industry does on finance from big business, the project could find no backer as the subject was considered to be too controversial and likely to cause the public undue alarm, and as a result, the screenplay was shelved. Interestingly, the same year, Alexander Korda released 'Things to Come', based on H.G. Wells' futuristic novel, in which a major war breaks out in 1940 and the towns and cities of Britain are completely destroyed by aerial bombing!
Three years later, at very short notice, he was asked to submit a screenplay for Albert de Courville's film 'An Englishman's Home' (USA 'Madmen of Europe'). Much to his annoyance, it was rejected, but when the film was finally released in 1939, he was given a credit along with a number of other writers, although how much, if any, of his script got through to the final version, is unknown.
In his two collections of short stories, 'Mediterranean Nights' (1942) and 'Gunmen, Gallants and Ghosts' (1943), Wheatley included two further film treatments, 'The Terrorist', and 'The Fugitive King'. 'The Terrorist' was actually read by Angus McPhail, the head of the story department at Gaumont-British studios, who reported enthusiastically on it, but Wheatley had specifically written the lead role for the actor George Arliss, who had complete script approval, and he unfortunately, rejected it out of hand. 'The Fugitive King' is a scenario rather than a completed film script, and is based on the second and third chapters of his biography of Charles II, 'Old Rowley' which tells of the young king's flight across England following his defeat by Cromwell at the battle of Worcester.
The Second World War put a sudden stop to any further projects by Wheatley regarding the cinema, and it was only with the burgeoning British horror film industry of the 1960s that producers once again became interested in his work.
Towards the end of 1963, Hammer Films acquired the rights of Wheatley's occult novels, 'The Devil Rides Out' and 'The Satanist', but it wasn't until four years later that filming began on the first of these. By that time, Hammer had also bought the rights to another Wheatley classic, 'The Haunting of Toby Jugg', and had put into production 'The Lost Continent' based on his 1938 'lost race' adventure 'Uncharted Seas'. With the film industry showing so much interest in his work, Wheatley believed that very soon studios would be queuing up to film the rest of his books. This, however, was not to be.