The Dennis Wheatley 'Museum' - World War I
Nightmare Journey (September 1917)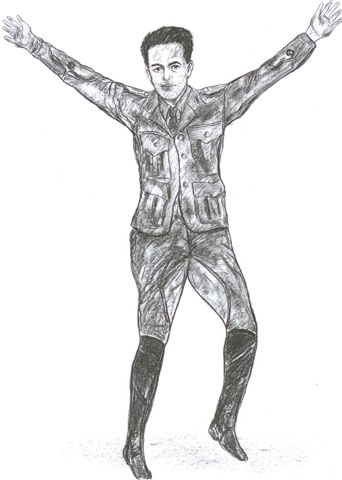 Drawing by 'Mauro'
What DW might have looked like as he explained his predicament to the Staff Captain, the General and the Staff Major.

For details of this comic-tragic journey in which everything that could go wrong did go wrong, see the introduction to this 'Room'.

DW only wrote about this episode in later life, leading some commentators to think it never really happened. I prefer to think that it did !


| | |
| --- | --- |
| References : | 'Saturdays With Bricks' Chapter 4 ('My First Special Mission'). |
| | 'Officer and Temporary Gentleman' Chapter 14 ('Nightmare Journey'). |
| | Phil Baker pp 122-130. |
| | |
| --- | --- |
| Provenance: | Private Collection with thanks to the artist, 'Mauro'. |