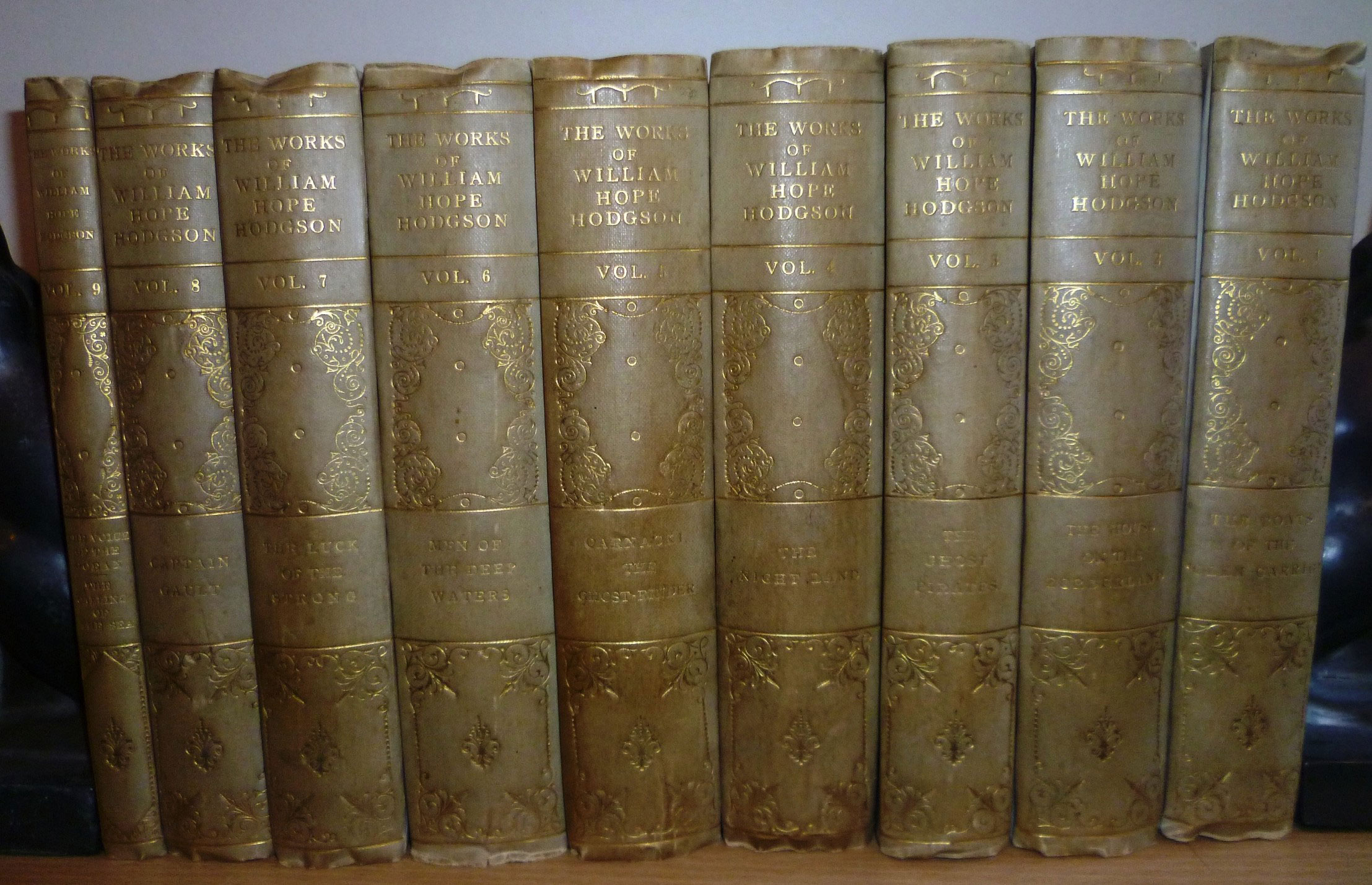 DW's complete set of first editions of Hope Hodgson's works
Internal evidence suggest DW bought this particular set some time in the 1950s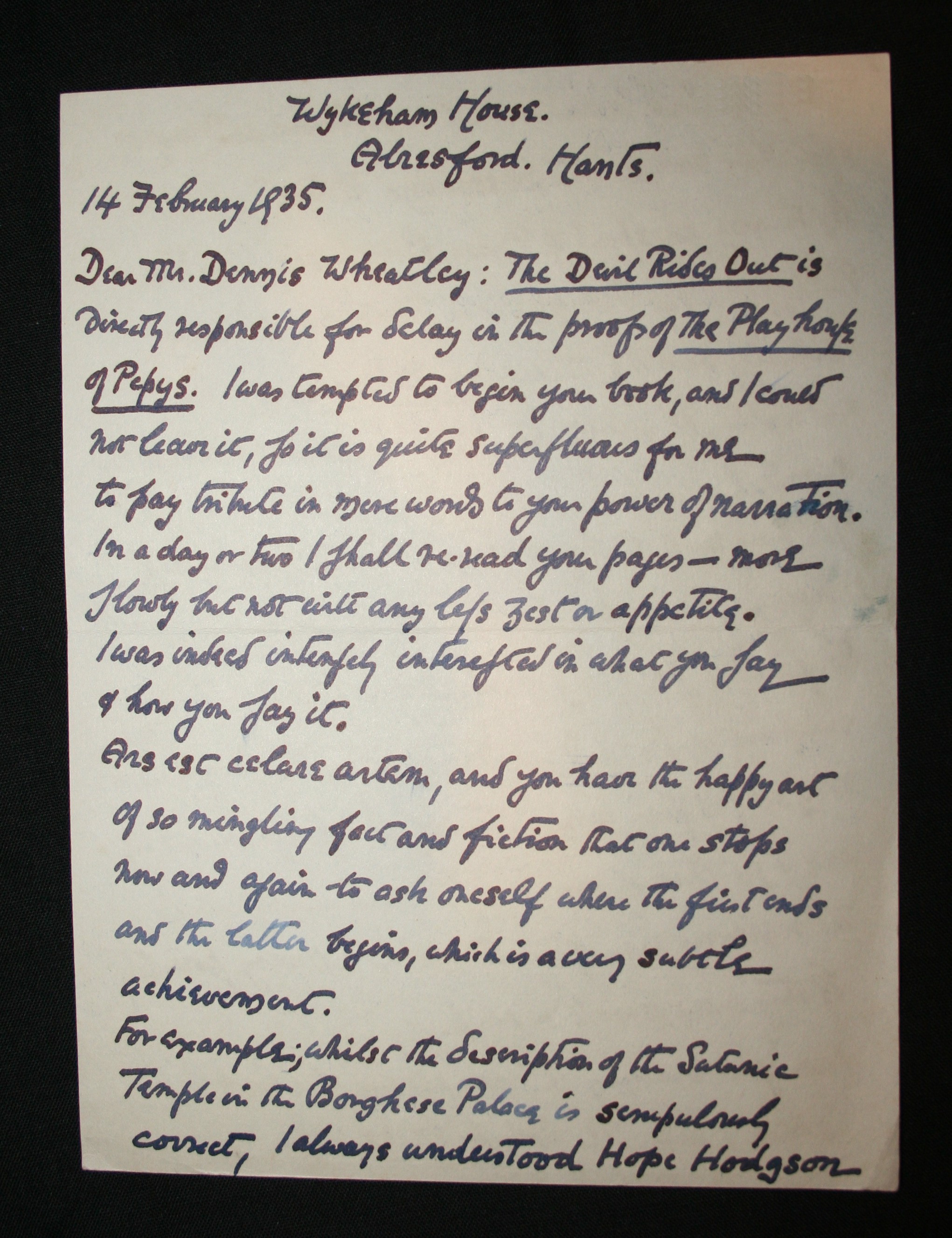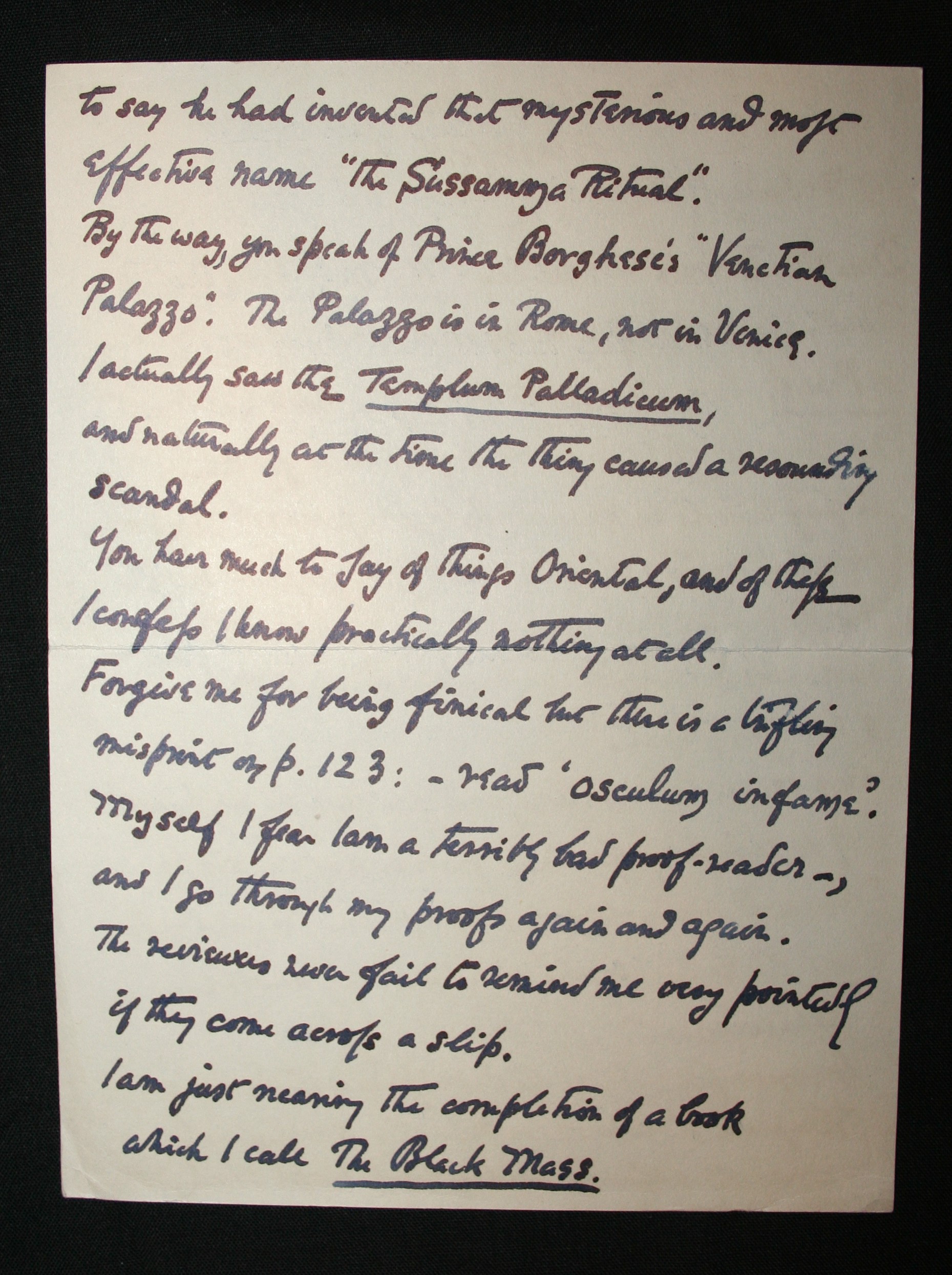 Click on the image to enlarge
For a transcript, click here
The section of Montague Summers' letter of 14th
February 1935 in which he refers to Hope Hogdson's
influence on the book
William Hope Hodgson (1877-1918) was an author who produced essays, short stories, poems and novels in a series of overlapping genres including horror, fantastic fiction and science fiction.
Although well educated, Hodgson ran away to sea and spent several years on merchant ships, eventually obtaining his mate's certificate. He spent a lot of time on personal exercise (in part for self defence) and set up a School of Physical Culture on his return to England. He started writing in 1903, at first factual articles about physical culture, and progressing into poetry and fiction. He wrote five novels and a large number of short stories before his death on active service in World War One (he was killed by an artillery shell at Ypres in April 1918).
Of principal interest in the current context, although DW owned copies of all of his works, are his nine short stories featuring 'Carnacki the Ghost Hunter', of which six were published in Hodgson's lifetime, and the rest posthumously. The six were first published between 1910 and 1912 in The Idler magazine and The New Magazine, and were subsequently published in book form as 'Carnacki the Ghost Finder' in 1913.
In the stories, Caracki periodically invites four friends to come round and hear of his exploits, and each short story recounts one of these exploits.
The two stories of most interest in a DW context are 'The Gateway of the Monster' and 'The Whistling Room' (both first published in 1910).
In the former, Carnacki investigates the bedroom in ancient mansion where a murder took place long ago. Following instructions in the fourteenth century 'Sigsand manuscript' Carnacki builds himself a pentacle, and puts on top of it an electric pentacle made of vacuum tubes which emit a pale blue glare (shades of Henry Beddows's pentacle made of fluorescent tubes in 'To The Devil A Daughter'). This is just as well because the manifestation kills a cat which Carnacki has brought into the room, and seeks to destroy him too. During the psychic attack Carnacki feels a cold wind blowing against him, and the evil manifestation circles the pentacle and almost succeeds in penetrating its defences when he knocks a protective jar of water out of its correct position.
All of this will be quite familiar to readers of 'The Devil Rides Out'.
Similarly, in 'The Whistling Room', Carnacki investigates a room which emits a strange whistling sound. He is not convinced a supernatural entity is involved until he climbs a ladder and sees a pair of huge grotesque lips puckering out of the floor. Carnacki is tricked by the entity into entering the room and realises that his soul is in danger.
"Suddenly the Unknown Last Line of the Saaamaaa Ritual was whispered quite audibly in the room" and "There came a sense as of dust falling continually and monotonously and [Carnacki] knew that [his] life hung uncertain and suspended for a flash in a brief, reeling vertigo of unseeable things" .
Again, this will sound somewhat familiar to readers of 'The Devil Rides Out', as will such menaces as "Saiitii manifestations", and it is clear from Montague Summers letter to DW, a further part of which is reproduced above, that he drew a direct connection between Hope Hodgson's Ritual and DW's. Indeed, he congratulated DW on it.
Both Hope Hodgson's Carnacki stories and his novel 'The Ghost Pirates' were later to be published in DW's 'Library of the Occult' .
References : 'Carnacki the Ghost Hunter', Sphere Books, The Dennis Wheatley Library of the
Occult edition, DW's introduction
Phil Baker pp 282,332,377,492,598.
Further reading : See also the Wikipedia entry on William Hope Hodgson